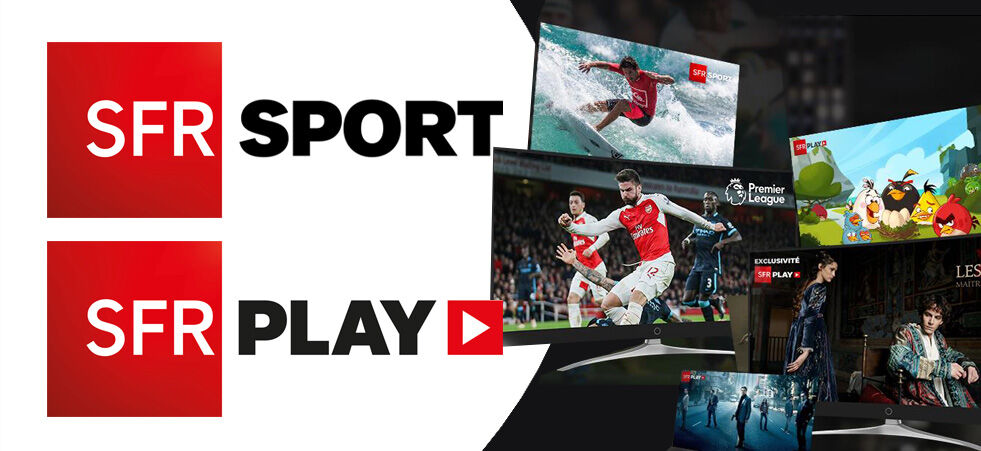 SFR Play and SFR Sport (RMC Sport) is the new streaming service provided by SFR Group France. With SFR Play you can enjoy an inexhaustible catalog with all your series and all your favourite movies in HD quality.
SFR Sport is the streaming service devoted to sports, where you can find all your favorite sports including English Premier League, English rugby, extreme sports, basketball, and recently SFR Sport has acquired the Champions League and Europa League for 2018 to 2021.


Unblock and Watch SFR Play & SFR Sport (RMC Sport) Outside France, create a free account and start streaming series & movies
For SFR Play and SFR Sport fans and subscribers traveling outside France, to get access to SFR streaming service you have to be connected from France territory otherwise you will be geoblocked. To bypass the geoblocking problem we will use a VPN or DNS service to get access to all SFR's streaming services.
In our tutorial we will explain how we can access to SFR Play and SFR Sport from everywhere, creating a 1 month free account and enjoy all its streaming services with a Full HD quality. To get a France iP we will use PureVPN as a VPN solution to bypass geoblocking, you can use HMA Pro VPN, Ivacy or any of our recommended VPN. (All our recommended VPN have its money back guarantee so feel free to select the best for you).

For manual installation, you can consult our VPN SET UP page or your provider site under Setup section. Or readily install the VPN Client software of the provider you have chosen (all our recommended providers have their own installable software).




Screenshots Tutorial using PureVPN software
1- Unblock SFR Play Outside France and Start your 1 month free trial:


• Screenshot of SFR site
• Screenshot of SFR Plans (choose "Sans abonnement SFR" if you have not a SFR Box or Mobile subscription)
• SFR Play Page (click "Voir Offres")
• 1 Month free offer, Click "Je profite de l'offre)
• Steps to create a 1 month Free Account


Payment details, You will be not charged until the next month


1 Month free account Successfully created


Email confirming the creation of your SFR Play account
• SFR Play VOD Site, We will choose some VOD to watch
Geoblocking Error "Une erreur est survenue durant la location, veuillez réessayez ultérieurement"
• Open one of our recommended VPN, here we will choose PureVPN and connect to a France server
• After connecting to VPN, click Play again
The VOD streaming successfully opened
• Other VOD videos from SFR Play List
2- Watch SFR Sport (RMC Sport) Outside France:


• Screenshot of SFR Sport section
• SFR Sport Plans, select "SFR Sport Offre 100% Digitale" then select your prefered subscription plan
• Click "Valider la commande" to Confirm your order
Email confirming the creation of your SFR Sport account
• Streaming of SFR Sport outside France
Click "Voir le Live"


Login and click "Me connecter"


Check and click "Voir la TV sur mon ordinateur"


To watch Choose and click from the List your SFR Sport channel prefered
SFR Sport 1
SFR Sport 2
SFR Sport 3
SFR Sport 5




Note This VPN solution can be applied to "SFR Play – SFR" and "SFR Sport – SFR" iOS and Android Apps. For installation go to our VPN Setup page.