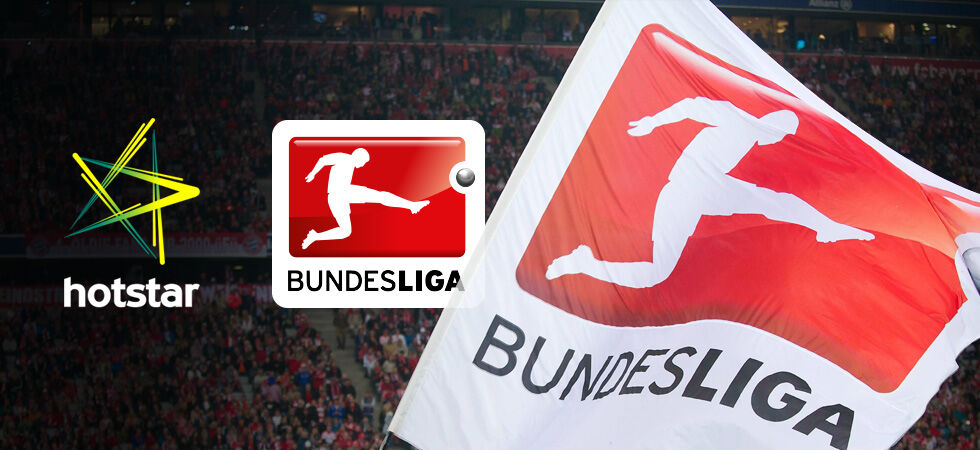 The full season of German Bundesliga is available now Live and replay streaming on Hotstar (old Star Sports) the new Indian official broadcaster of different sport competitions like England Premier League, Bundesliga, Formula1, Cricket and famous US TV shows, movies..etc
Bundesliga replays and highlights videos are available for free but Live matchs are available for only premium account's owners and Hotstar's fans traveling outside India are geo-blocked to stream Bundesliga and all Hotstar's contents even they own a premium account.
In this tutorial we will explain how to watch free contents of Bundesliga and all on Hotstar outside India bypass geoblocked error "Hotstar is currently not available in your region" and get a free premium one month trial account.


1- Unblock Bundesliga stream contents on Hotstar outside India
To be able to bypass geoblocking of Hotstar we need an indian iP, so we will use one of our recommended VPN software to stream Bundesliga with a HD quality. In our tutorial we will use PureVPN. We recommend PureVPN, ExpressVPN, and VPN Unlimited for streaming from Hotstar India. (Please Check updated VPN list below). All our recommended VPN have its money back guarantee so feel free to select the best for you.
Video Tutorial using PureVPN software




Screenshots tutorial using PureVPN software
• Unblock Bundesliga free Stream contents on Hotstar outside India:
Screenshot of Hotstar site: Enter to Hotstar site.
Full season Bundesliga and Premier League 2016-2017 are available Live streaming and Highlights videos
Bundesliga Premium Live and free Highlights videos page
Let's try a free content "Dortmund vs freiburg" Highlights video
Video geo-blocked: "Content Unavailable. This content is currently not available in your region. [403]"
Install and open PureVPN Client software and connect to an indian server
Indian server connected. Now refresh the page to load again the video.
Video unblocked. All free Bundesliga videos and all free Hotstar's contents are now available and no more problems of geoblocking.
• Unblock Bundesliga Live stream on Hotstar outside India and start your free month:
You can access to premium contents from Bundesliga page or go to Sport menu and click Football to get all Live matchs available at the moment.
Popular Football page. We will select the live Bundesliga match "Hamburg vs Bayern Munich"
It's a premium content and we have to create an account. Click "Star your free trial"
Your First month is free and you can cancel anytime, if you want to keep your subscription the price is about 3 USD per month. Click "Star your free trial"
Enter your Email and choose a password
For payments methods there is Credit/Débit Visa card, Credit/Débit Mastercard (the Visa and Mastercard must be issued from Indian Institution) or use your Debit/credit American Express Card.
For No owners of Visa and Mastercard issued from Indian Institution or an American Express Card, they can use our iTunes solution explained below to get a premium account.
Link your card and enjoy your Free one month Trial. You can cancel it any time.
Now we try again to stream our Live Bundesliga Match, Of course we need to connect our VPN to an indian server


PureVPN connected to an indian server. Refresh the page
The Live streaming works perfectly
2- How to pay and subscribe for a Hotstar premium account using iTunes
This solution is for no American Express cards or Indian credit/debit cards owners.
You just need an iOS device iPhone or iPad, may be yours, a device of one of your familly members or one of your friends. You need the device for only about 5 minutes to download Hotstar iOS App and create your premium account, all the other configurations can be done with your PC using iTunes desktop Application.
To do that you need first to create an indian Apple account (by an iOS device or by your PC using iTunes desktop App, no card needs). Then go to Ebay.in to contact one Itunes card seller to purchase an Indian Itunes card. After purchasing your card, redeem it into your new Indian Apple account using your PC iTunes Application or your iOS device, then follow these steps (these 4 steps needs a iOS device):
1- Go to your iPhone or iPad and login with your Indian Apple ID then Hotstar App.
2- Configure your VPN in your device and connect to an indian server.
3- Open Hotstar App and enter your login done before using your PC or sign up for a new one.
4- Click in any Premium content, then Click "Start your free trial" and continue your subscription to get one month free trial can be cancelled anytime.


To unsubscribe you can go any time to your Apple ID (using your PC by iTunes Application or your iOS device) > Manage Subscription and click "cancel Subscription" after cancellation you can still access until your free one month finish.




• Some Indian Itunes Gift Cards from Ebay.in


• We bought this card, we contacted the seller and ask him to get the code by Email and pay him by paypal. We almost instantly receive the code after the payment and it was successfully redeemed.






Video Tutorial: Steps to get Hotstar Premium Subscription using iTunes application and an iOS device (Without and No owners of indian Visa/credit card or an AMEX)
This solution is for no owners of indian Visa/Mastercard or AMEX, to create your subscription by using an iTunes Gift card, iTunes PC application and any iOS device. You will need the iOS device for only 5 minutes or less, then you can continue managing your subscription from your computer.








Screenshots Tutorial: Steps to get Hotstar Premium Subscription using iTunes application and an iOS device (Without or No owners of indian Visa/credit card or an AMEX)






First Subscription's Steps from your computer using iTunes Application
Hotstar App in iTunes. Click "Get" to create a new indian Apple ID




Provide Your details to create your New Apple ID




Select "None" in Payment Type then enter an indian address and phone




Check your Email and verify it




Email Address verified




Go to Ebay.in and search for "Itunes Card" (or any other online service offering Indian Itunes Gift Cards). Contact the seller and buy a Gift Card.




Go to iTunes and redeem your iTunes Card's Code. Click "Redeem"




The code was successfully redeemed and your Apple ID has been credited with your iTunes Cards amount.






Second Subscription's Steps from any iOS device (we choose an iPhone)
Go to App Store and sign in with your new Indian Apple ID. You will be redirected to indian Store




Your Apple ID is already credited by iTunes card. Search for Hotstar App and Click "Get" to download it




Open Hotstar App and go to any Premium content and try to play it. If you are outside India you will be Geo-blocked




Configure your VPN and connect it (you can follow the setup steps from your VPN provider help or Setup section) or you can download directly it's iOS App.




After your VPN was connected. Return to hotstar and play again a premium content
Click "Start Your Free Trial", enter your Email and choose a password then continue your sign up




The purchase was successful and the Premium Hotstar membership is now active in all your Computer devices, iOS or Android devices, TV..
The iOS device's Steps is now finished and you don't need anymore the device. You can manage or cancel your subscription from your computer by iTunes, or you can keep it and top up again your Apple ID with other Indian card iTunes in case you finished your old balance.






Third Steps are from your computer using your browser and iTunes Application.
Now go to Hotstar Site from your computer and sign in.




Go to my account and you will see that your Premium Membership is active and was paid throught iTunes.




To Manage or cancel your subscription go to iTunes and click account.




From subscription Click "Manage".




Here you can see your subscription details and you can cancel it buy clicking "cancel subscription".






For more explanation of iTunes solution please visit How to pay and subscribe for Hotstar premium account outside India for No American Express or indians credit/debit cards owners?