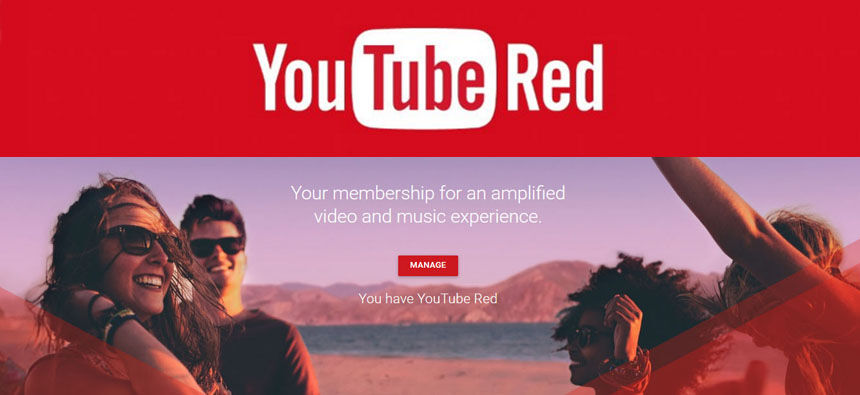 Youtube is the biggest video-sharing website and number one for individuals and production companies to grow audiences and sharing their contents, even monetizing their videos and earn money from ads revenue. Youtube the subsidiary of the big Google launch on October 28, 2015 a new service called YouTube Red.
1- What is Youtube Red and what benefits gives to their members
YouTube Red is a new premium Youtube service priced at $9.99 per month, it gives you new benefits like ad-free videos, access to new original Series and movies, save videos and playlists to watch offline, play video in the background on mobile devices, an unlimited streaming music, a full access to the Google Play Music and a premium access to the new YouTube Music App.
YouTube Red is available in the US (United States), access from other countries outside is blocked "YouTube Red is not currently available in your country", Youtube Red account holders who travel outside wouldn't be able to access their accounts even though they have paid for it, to use Youtube Red and bypassing geoblocking while travelling outside US we have to access from a US iP. In our tutorial we will explain how to enter Youtube red outside US and sign up for a free trial account.
2- How to access to Youtube Red outside US using VPN
To bypass geo blocking access we will use a US iP, here some recommended VPN providers offers US VPN servers:

For manual installation, you can consult our VPN SET UP page or your provider site under Setup section. Or readily install the VPN Client software of the provider you have chosen (all our recommended providers have their own installable software).


• Youtube Red home page Site accessed from different countries worldwide
"YouTube Red is not currently available in United Kingdom."


"YouTube Red n'est actuellement pas disponible dans le pays suivant : France."


"YouTube Red ist in Deutschland derzeit nicht verfügbar."


"YouTube Red is not currently available in Australia."


"YouTube Red no está disponible de momento en España."




• In our tutorial we will connect to US server using PureVPN software or HMA Pro VPN software (you can choose another VPN provider from the above recommended VPN list or visit our VPN Providers page)
– PureVPN Installed and connected (recommended)
The Fastest US server will be automatically chosen
or choose a specific server


PureVPN connected to US server


– HMA Pro VPN Installed and connected


HMA connected to US server




• After refreshing Youtube Red home page we successfuly access to the service
3- How to sign up to Youtube Red service and get a free trial account outside US using VPN


• Click on "start free trial" and sign in or sign up for a google account




• Set up google payment account (Card or Paypal) and click "accept and continue"
Youtube Red will not credit your Card or Paypal during this 30 days free trial


• Click "Buy" (as you see it is free $0)



Use any US address


• Now you have successfully create a free Youtube Red account "Welcome to Youtube Red!"


• Screenshot of Youtube Red Home page and an ad-free video streaming


• If you want to avoid to be credited next month you can cancel your membership anytime from your Youtube Red account


Your Youtube Red benefits will available during your 30 days trial period


• If you want to create a new Free account but you have already used your card, you can easily create an Entropay account and create new Virtual Visa cards.
To get other free Youtube Red 30 days trial period you can create a new account and use an Entropay Prepaid Virtual Visa.
An EntroPay Account is a prepaid account. The account instantly gives you a Prepaid Virtual Visa which you can use to make online purchases wherever Visa is accepted. You can load funds (deposit money) onto your EntroPay Virtual Visa using your regular credit/debit card or Bank account.
Enter to Entropay.com, create your account, choose between $/€/£ currency and link your Debit/Credit Card or Bank account to load funds. Top-up your first new virtual card between 5 to 300 $/€/£ then you can create multiple new Virtual Cards and Transferring funds between them.
You can create 5 debit virtual cards in the same time if you have a Starter or basic Entropay account. In case you opt for a Premier account, you will be able to create up to 10 cards, but to avoid this limit just delete old crads and create new ones.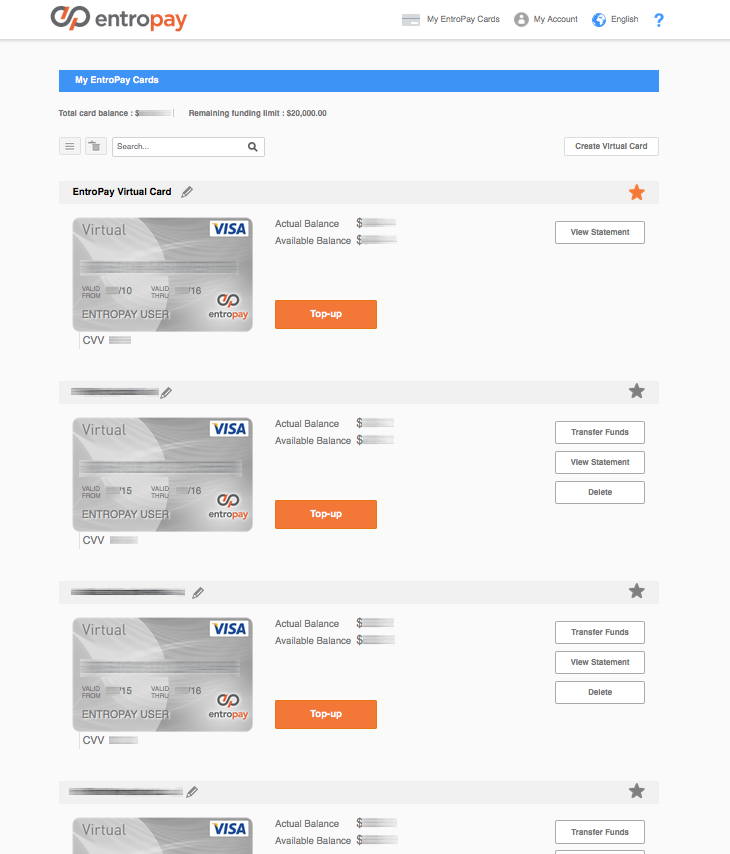 4- Full premium access to Google Play Music and Youtube Music outside US


Some of the biggest benefits of Youtube Red membership is a free premium YouTube Music account and a free full access to Google Play Music
Screenshots of YouTube Music iOS App outside US




Screenshots of Google Play Music service outside US


• Note: You can use your Youtube Red with out VPN but some benefits will be not available like saving videos offline, videos won't play in the background, and you will see ads. Any videos that you've saved offline, will continue to be available offline for 30 days.