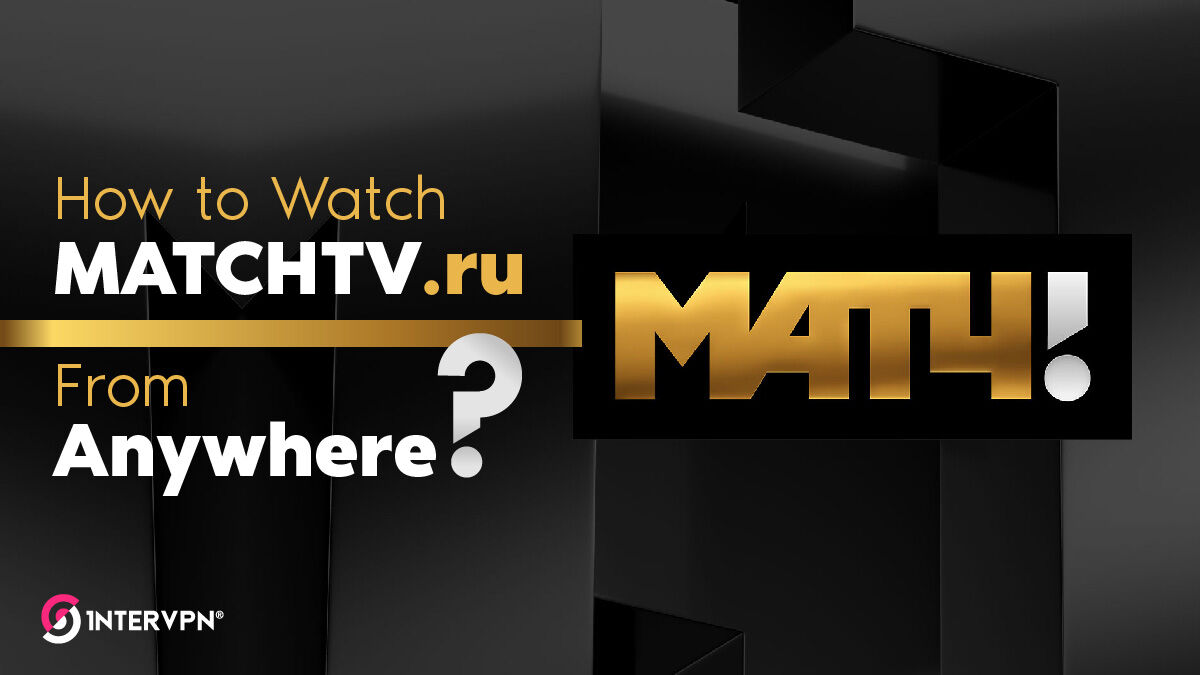 Update - November 21, 2022
MatchTV.ru is a famous Russian streaming service that has been around for over a decade, and it is still one of the most popular video streaming sites in Russia. Moreover, It is a dedicated sports streaming site, where you can find TV broadcasts of many different sports, like football, hockey, basketball, volleyball, tennis, darts, etc.
Above all, MatchTV.ru holds the broadcasting rights of the Russian Premier League, Champions League, Europe's football championship (Euro 2020), UEFA Europa League, FIFA World Cup, Serie A, and many worldwide Sports events inside and outside Russia to watch on Match TV site. So, it is a big gem for sports fans.
Match TV is available outside Russia?
For Match TV sports fans living abroad, the MatchTV.ru streaming service is blocked outside Russian territories and gets a geo-restriction error when they try to stream their favorite sports event. Today, we will show you how to watch Match TV channels outside Russia. Firstly, how to bypass the geo-blocked error, and secondly, what is the best VPN to unblock MatchTV.ru.
How to watch Match TV outside Russia?
If you are outside of Russia and trying to stream Match TV, you will get an error that says "Video not available to view from your country" (Видео недоступно для просмотра из Вашей страны Возможно, проблема во включенном. сжатии трафика в Вашем браузере. Посмотрите инструкцию, как отключить.). Therefore, you will be unable to stream your favorite sports events. But, fortunately, there is a solution to this geo-blocking error. If you want to watch Match TV, you should use a VPN like CyberGhost VPN.
11/21/2022 Update
ⓘ Quick Steps: How to Watch Match TV from anywhere?
1- Download and instal 
CyberGhsot VPN
2- Connect to a server from Russia
3- Go to 
MatchTV.ru
4- Select a channel or a live streaming video
5- Enjoy your streaming!
How to watch MatchTV.ru abroad using CyberGhost VPN?
By hiding your IP address and making it look like you locate in a different country, CyberGhost VPN provides you the flexibility to stream Match TV and many other popular streaming services from anywhere in the world. For example, Netflix, Disney Plus, Hulu, HBO, BBC iPlayer, Pandora, Spotify, etc.
1. Go to MatchTV.ru Home page.
2. Select a live channel or a streaming service.
3. Our location is outside Russia. Consequently, We get a Geo-restriction error.
4. Download and install CyberGhost VPN then connect to a server from Russia and get a Russian IP address.
5. Refresh your MatchTV.ru live streaming page. Subsequently, the Geo-restriction bypassed by CyberGhost VPN.
As a result, anyone from around the world using CyberGhost VPN, can bypass Match TV geo-restrictions and use its streaming service outside Russia.
Which best VPN to Watch MatchTV.ru outside Russia?
To watch MatchTV.ru abroad we recommend our trusted and tested VPNs below:
< class="mt0 mb0">
CyberGhost VPN
>
Stream Matchtv.ru from anywhere using CyberGhost VPN
CyberGhost VPN is a VPN provider tested and works very well with MatchTV.ru.
Get Free 4 Months
CyberGhost VPN Limited Time Deal. Good VPN for MatchTV.ru, and many other streaming services, like Netflix and Disney Plus. | 45-day money-back guarantee.
---
FAQ – Watch Match TV outside Russia
What's on Match TV?
Match TV is a sports streaming broadcaster. You can watch live coverage of various sports, including Russian Premier League, English Premier League, Champions League, Europa League, Europe's football championship (Euro 2020), Bundesliga, Serie A, Spain Liga, FIFA World Cup, Formula 1, Basketball, Ice Hockey and more.
Why doesn't Match TV work outside of Russia?
Due to broadcasting rights and access restrictions, Match TV doesn't work outside of Russia. But, Match TV fans traveling outside of Russia can bypass geo-restrictions and get free access to all streaming services of MatchTV.ru using a VPN like CyberGhost VPN.
Will any VPN work to unblock Match TV?
The fact is Matchtv.ru doesn't have a reliable enough system to block VPN IPs, preventing you from watching their streams. Many VPNs provide Russian IP and can work with Match TV outside Russia. But, we recommend CyberGhost VPN or another tested and trusted VPN like NordVPN, CyberGhost VPN, ExpressVPN, or HMA VPN to unblock MatchTV.ru.
How does a VPN unblock Match TV?
One of the good features of a Virtual Private Network (VPN) is the flexibility to change your local IP address to another and hide your data. Also, VPNs provide you the possibility to select the location of your virtual IP. In our case, by selecting Russian IP, you will be considered by Match TV as a Russian resident. As a result, you will get access to MatchTV.ru streaming services like any Russian resident.
How to Watch Match TV in Germany? 🇩🇪
You can watch MatchTV.ru in Germany by changing your German IP to a Russian one. Since using a VPN to stream a geo-blocked service in Germany, not prohibited, our recommended and tested VPNs, like CyberGhost VPN or CyberGhost VPN, will allow you to access Russian TV channels and streaming services, such as MatchTV.ru from Germany. You can enjoy the Russian Premier League, Bundesliga, Euro 2020, FIFA World Cup, and many other sports events.
How to Watch Match TV in the USA? 🇺🇸
Streaming MatchTV.ru from the US is blocked. But fortunately, you can get access to its streaming services from the US if you are using our recommended VPNs to unblock Match TV from the US, like CyberGhost VPN. By connecting to a Russian server, your IP address will change to a Russian IP, and you will easily bypass the geo-restriction of Match TV.
---